Customer Relationship Management and Email marketing is a perfect amalgamation to evolve business everywhere. This made an easier for all of us to work now in a more advanced way. But CRM software is sometimes an intimidating task for sending email campaigns to multiple audiences. Have you already switched to other software for your email campaign purpose? Well, we know that campaign work in CRM is a long-winded task. This is why we took the advantage of Mailchimp Integration (leading email marketing software) with SuiteCRM. We introduced a great extension called "SuiteCRM Mailchimp Integration" for our users.
What is Mailchimp?
Why no other email tool and why only adapt the Mailchimp software?
The Mailchimp is a cornerstone of marketing business success where you can send bundles of emails to all your potential leads and other audience at once to save your time. The software promises for brimming you good results as you can manage your newsletter and mailing lists.
This easy-to-use can be beneficial for your e-commerce business because this email marketing tool is ready to integrate. Leverage "Automation" functionality here to minus your manual efforts.
Before going to plunge into the section of Mailchimp Integration with SuiteCRM plugin, it's important for the user to know first "what is Mailchimp" for your business.
Why to choose the SuiteCRM Mailchimp extension?
Your business team working in SuiteCRM software. For email campaign purposes they selected the Mailchimp email marketing tool to fetch the audience easily. It means your team is putting in some extra manual efforts when it's time to update something about the lead in both these platforms. Do you think that this is a daunting task for you? If it is then you landed in the right place because our plugin can handle your task with the best feasible method.
Outright Store integrated both these platforms together so that a user should not think of "Updating Mailchimp first and then move on to SuiteCRM to update the same thing". Let's cut this long process from business and adapt the SuiteCRM Mailchimp plugin to keep everything simple and advanced.
For instance: You made your Marketing team who will handle your potential leads and the new customers who are looking to join your business. You got an update from the client's regarding the campaign that you shared with them a few days back. So you should update it in your SuiteCRM. Mailchimp automatically updates the details to save your quality of time. All you need is this add-on: SuiteCRM Integration with Mailchimp.
List of its Solid Features to entice you all for using it
We are here to make your Email marketing activity easier than before. The below features list can help you to know more about Mailchimp SuiteCRM Plugin. Have a look-
The first and essential functionality of this extension is using every easy and advanced function of the email marketing software called Mailchimp. If working in a SuiteCRM Campaign is very important for you regarding your customer relationship then the plugin is ready to take your burden by offering the ultimate feature of Mailchimp software. How great it would be for you all to get top-notch functionality of this lead marketing software?
Our decision of SuiteCRM Integration with Mailchimp can take your business to the next level. This plugin promises to improve your productivity. There is a zero percent requirement of updating both the platforms to work. Suppose if you want to change some information about your new leads then select Mailchimp. SuiteCRM will automatically get updated. So, this real-time synchronization is a remarkable option to upsurge your business productivity. This feature is preeminent!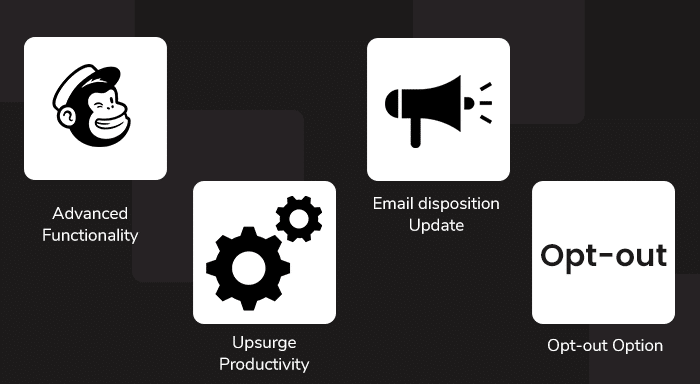 If we are giving our best in some work then the results are also valuable to know. In businesses like Sales and Marketing, the business employees there want to check out the status of their campaign that they shared with the audience globally. Well, this campaign status activity is now possible in SuiteCRM. Just pour investment in Mailchimp SuiteCRM Add-on to check the email disposition in your SuiteCRM software. A better way to make decisions for the future and judge your work.
Avoid the email campaign information or templates sending activity from third-party. We are offering the functionality called Opt-out where you will stop getting the email templates that are sharing unnecessarily with you. The feature is beneficial for every scale sector.
Final thoughts: The concluding part of this article is that Mailchimp SuiteCRM plays a special role in every business activity. We are happy to scale our business with this great extension as it is outstanding to fetch the audience and turn them into your loyal clients. Above we shared the vital role of this email marketing tool with a valuable plugin for your organization. Improve your email marketing today!